The new amenity for the super rich? Luxury panic rooms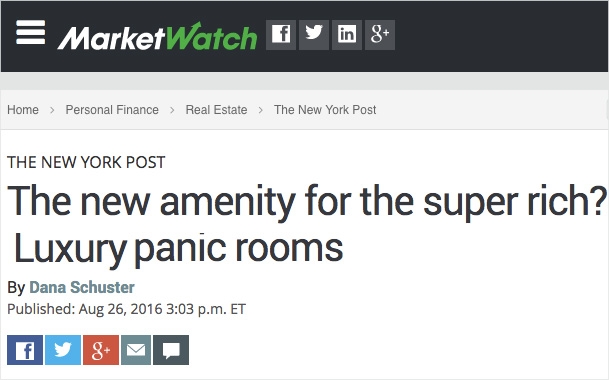 Market Watch / New York Post
The new amenity for the super rich? Luxury panic rooms
Tom Gaffney was quoted for a recent article about the resurgence of Safe Rooms
by Dana Schuster
The hottest new trend for the 0.01%? Safe rooms, darling. Billionaires are outfitting their abodes with ultra-luxe safe spaces that cost up to half a million dollars, according to a Town & Country story in the September issue of the glossy, which hits stands tomorrow.
The shelters are designed to protect against everything from natural disasters to home invasions and ISIS attacks, and come complete with infrared cameras, facial recognition software for entry, ballistic fiberglass to protect against explosions, air filtration units and bad-guy-distracting fog that's activated with the touch of a button.
Tom Gaffney, founder of Gaffco Ballistics, works with families in the Hamptons, Manhattan, South Florida and Connecticut to create the six-figure fortifications of their dreams...
As he explains: "In the high-end residential market, they don't expect to see a Jodie Foster-style safe room."
To View Full Article, Visit:
http://www.marketwatch.com/story/the-new-amenity-for-the-super-rich-luxury-panic-rooms-2016-08-26
Read More ›