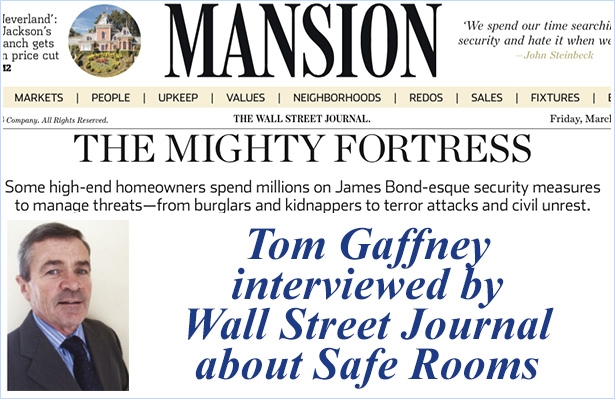 The Wall Street Journal
The Mighty Fortress
High-end homeowners spend millions on James Bond-esque security measures...
by Cecilie Rohwedder
In the Hollywood Hills, where musician & studio owner Jed Leiber lives, his imposing 12,000-square-foot house is known by some locals as "the Fortress." The walls are made of concrete. High-resolution security cameras monitor activity. Each room requires a key fob for access. And the master-bedroom suite includes a safe room, built into one of two dress areas and hidden by a bulletproof plate that slides down from the ceiling...
For full article, visit the URL below (requires WSJ online subscription) or Contact Gaffco for information:
https://www.wsj.com/articles/spending-millions-to-keep-a-home-safe-1488469017
More excerpts from the WSJ article:
High-end homeowners are taking security measures to manage threats ranging from burglars and kidnappers to terror attacks and civil unrest...
Home-security companies are seeing an uptick in sales. For example, Gaffco Ballistics, a Londonderry, Vt.-based security firm, says the number of residential projects it completed grew by 60% [recently]....
"There is a high level of perceived threat out there, and it's growing every year," says Tom Gaffney, CEO of the company, which sells bullet-resistant doors, safe rooms and ventilation systems to deal with the effects of nuclear, chemical or biological attacks..."
In the high-end housing market, protection is increasingly a selling point. Sotheby's International Realty, which is launching an international marketing campaign for Mr. Leiber's Hollywood Hills home, starting in China, is emphasizing the state-of-the-art security features....
For full article, visit the URL below (requires WSJ online subscription) or Contact Gaffco for information:
https://www.wsj.com/articles/spending-millions-to-keep-a-home-safe-1488469017