The Latest High-End Real Estate Amenity? The Luxury Safe Room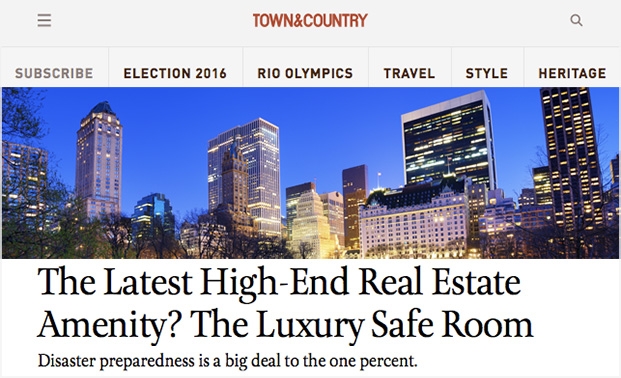 Town & Country Magazine
The Latest High-End Real Estate Amenity? The Luxury Safe Room
Tom Gaffney interviewed by Town & Country Magazine about Safe Rooms
by Adrienne Gaffney
View Full Article:
http://www.townandcountrymag.com/leisure/real-estate/a7282/luxury-safe-rooms/
If recent media reports 
of building plans featuring what looks like a secure bunker on the property of Mark Zuckerberg are true, 
the billionaire won't be alone. As fear escalates worldwide, foreign royals, cautious executives, and Gwyneth Paltrow are among those looking for spots to ride out anything from an ISIS attack to a natural disaster.
"It used to be we'd do a separate room; now we just take the entire bedroom, make that a safe room," says Tom Gaffney (no relation to this author), the founder of Gaffco Ballistics, who works with families in Manhattan, the Hamptons, Connecticut, and South Florida who routinely pay half a million dollars for his services. "In the high-end residential market, they don't expect to see a Jodie Foster–style safe room," he says. Instead, a bedroom is outfitted with bulletproof windows, ballistic fiberglass to secure doors against explosions, an air filtration unit to protect against a gas attack, and a panic button, all of which creates an area that's as impenetrable as a traditional safe room but considerably more comfortable.
"It becomes a competition at dinner parties," says Jill Kargman, writer and star of TV's Odd Mom Out and an Upper East Side native. "Who has what state-of-the-art hazmat suits, and kits where you can drink your own pee, etcetera. When I saw Showtime's Billions I died laughing that they had millions in bearer bonds just as go money," she adds, referring to funds set aside for quick and possibly permanent evacuation. "People love to say how much go money they have."
It has become a bragging right in the real estate industry, too. Sotheby's Jean Bateman is currently holding the listing for a 4,000-square-
foot Dallas home that features a reinforced safe room (amenities also include an outdoor cook station, a putting green, and a four-car garage). While it's rarely the top feature on buyers' lists, "no one thinks,
'I wish that weren't here.' It's certainly a bonus," Bateman says. "Everyone has a different use for it," says James Keough, of Douglas Elliman's Hamptons office, who is currently representing a mid–seven figure Wainscott home with a panic room, "whether it's jewelry or antique guns or a renter's closet [to secure the owners' belongings when the house is rented out for the season]."
Full Article:
http://www.townandcountrymag.com/leisure/real-estate/a7282/luxury-safe-rooms/
Read More ›