Still Secret and Secure, Safe Rooms Now Hide in Plain Sight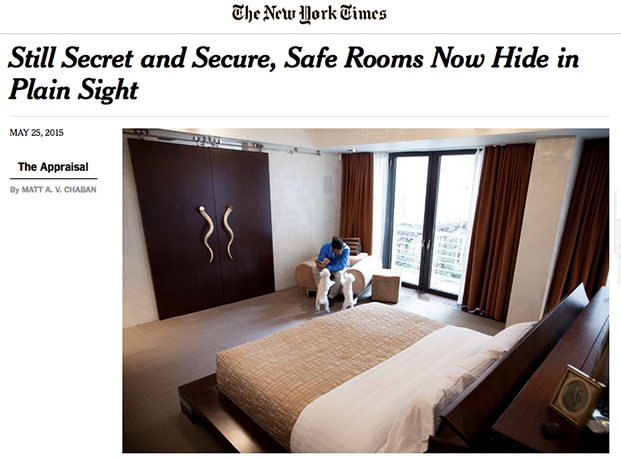 The New York Times
Still Secret and Secure, Safe Rooms Now Hide in Plain Sight
Tom Gaffney, founder of Gaffco is interviewed by The New York Times about Safe Rooms / Panic Rooms.
by Matt A. V. Chaban (N.Y. Region / "The Appraisal" )
While serving as president of the New School, Bob Kerrey, the former United States senator, needed a residence befitting his station. The university moved him into a red brick Neo-Grec townhouse on West Fourth Street in Manhattan, which was previously owned by the actress Gwyneth Paltrow.
The $20,000-a-month rental had many grand spaces for entertaining, including Mr. Kerrey's favorite, a rooftop terrace. Yet, its most unexpected amenity was quite private and secretive: a safe room.
"It looked like any old walk-in closet," Mr. Kerrey said of the 8-feet-by-12-feet bulletproof space inside the third-floor master bedroom (a space the former Navy SEAL said he had little use for). "There was nothing about it that gave it away as anything but a place to hang your clothes."
That is the point. For centuries, the best way for the wealthy to feel protected, or at least give the impression, was from behind a moat, a gate or an army. Such options are impractical in Manhattan, even for those who can afford them, yet a number of these property owners are finding ways to feel safe even in the event of a home invasion. When an alarm or a doorman is not enough, advances in designs and materials have made it possible to enjoy the safety of Fort Knox amid the comfort of a Four Seasons suite.
"The world is a very scary place right now, especially for people of means; they feel cornered and threatened," said Tom Gaffney, the president of Gaffco Ballistics, which has installed a number of safe rooms around New York City. "When you have so much to lose, and you can afford to, you put a premium on your safety."
Safe rooms were popularized as "panic rooms" by the director David Fincher's 2002 thriller of that name — one that the screenwriter David Koepp has admitted he made up because "safe room" did not carry quite the same drama at the box office.
"Panic Room" opens with the actress Jodie Foster touring a gorgeous brownstone on the Upper West Side of Manhattan, where she notices an uneven wall and is ushered into a hidden vault of concrete, closed-circuit televisions and a bare toilet better suited to a prison, which the room, of course, becomes. A similarly bleak model has played a minor part in the BBC hit "The Honorable Woman," where Maggie Gyllenhaal beds down in a bunker behind a hidden panel.
The reality of today's safe rooms is far cozier, and, rather than behind fake bookcases or trap doors, they tend to hide in plain sight. If there are cinder blocks, they are covered by mahogany paneling or smooth plaster, sandwiched between steel plates and Kevlar sheets. Some people fortify bathrooms or closets, others reinforce entire bedroom suites.
Read More ›