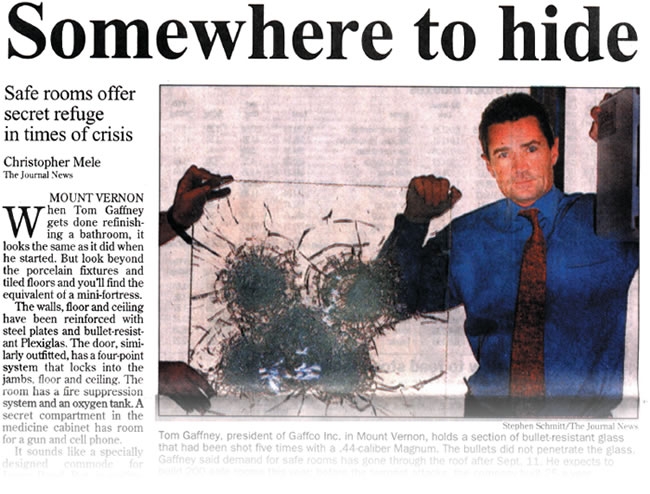 The Journal News
Somewhere to Hide
Panic rooms offer secret refuge in times of crisis
by Christopher Mele
When Tom Gaffney gets done refinishing a bathroom, it looks the same as it did when he started. But look beyond the porcelain fixtures and tiled floors and you find the equivalent of a mini-fortress.
Tom Gaffney, President of Gaffco Inc. in Mount Vernon, holds a section of bullet-resistant glass that had been shot five tirnes with a 44-caliber Magnum. The bullets did not penetrate the glass. Gaffney said demand for safe roonns has gone through the roof after Sept. 11. He expects to build 200 safe rooms this year: before the terrorist attacks the company built 25 a year.
The walls, floor and ceiling have been reinforced with steel plates and bullet-resistant Plexiglass. One door, similarly outfitted, has a four-point system that locks into the jambs, floor and ceiling. The room has a fire-suppression system and an oxygen tank. A secret compartment in the medicine cabinet has room for a gun and cell phone.
It sounds like a specially designed commode for James Bond. But, in reality, this is a so-called "safe room," the likes of which are in high demand by corporate executives, foreign dignitaries and the well-to-do.
Rooms like these are at the center of a Jodie Foster movie, "Panic Room," in theaters starting March 29. A divorced woman and her daughter are caught in a cat-and-mouse game inside their brownstone after three burglars come looking for a stash of cash. They hide in a "panic room," a secret refuge designed to protect occupants from intruders and would-be kidnappers.
Demand in the safe-room market became "huge" after the Sept. 11 terrorist attacks, said Gaffney, president of Gaffco Inc. The Mount Vernon company manufactures and installs bullet-resistant systems combined with high-end woodworking.
Before Sept. 11, the company built 25 safe rooms a year. In 2002, Gaffney expects to construct 200. "It's just gone off the rack," he said. "We're getting calls we never got before in our lifetime."
Master bathrooms at the homes of clients are converted to safe rooms because they're most accessible in the event of a night-time break-in. The bathrooms have fully functional indoor plumbing and to the naked eye appear to be nothing extraordinary. But its not every bathroom door that can withstand the blows of a sledgehammer.
Gaffney, who's built about 150 safe rooms in residential and corporate office settings over six years, noted that Gaffco's roots were in building check-cashing stores in New York City. "We learned a few tricks along the way," he said. Depending on how lavish the bathrooms are, costs can range from $30,000 to $100,000. "It all depends," he said. "I can build the BatCave."•
Download PDF