Gaffco on CBS News: Luxury Lockdown Rooms Hiding In Plain Sight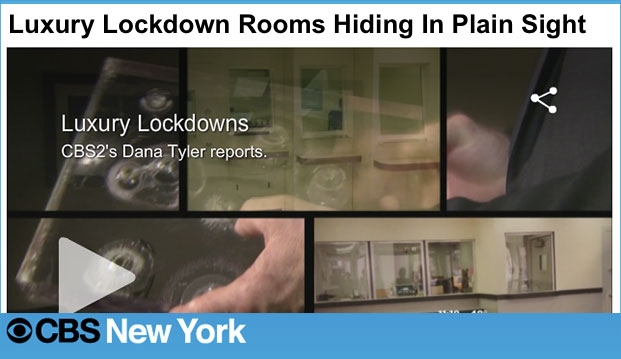 CBS News
Gaffco on CBS News: Luxury Lockdown Rooms Hiding In Plain Sight
Tom Gaffney of Gaffco Is Interviewed by CBS News
by Dana Tyler, Reporting
Check out our recent appearance on CBS News:
http://newyork.cbslocal.com/2015/10/02/seen-at-11-luxury-lockdown-rooms-hiding-in-plain-sight/
NEW YORK (CBSNewYork) — We all want to feel safe at home, but how far should we go to ensure that security?
CBS2's Dana Tyler took a look at a new building trend that involves fortified rooms hiding in plain sight.
Alan Wilzig is a former bank owner who lives in high style — and with high security. "I never had a threat against me or a reason to have one. It was done out of an abundance of concern," he said. Wilzig is talking about his fortified TriBeCa townhouse. There's bullet-proof glass on the exterior. "It's a ballistic polymer," he added. And of course, a safe room. "The walls have two layers of Kevlar sheeting, the same material they use for bullet-proof vests; a security peep hole, you're seeing 180 degrees; a 1,700 pound door…five deadbolts," Wilzig said. And all of that is incorporated into the design of his bedroom. The panic room has come a long way since the 2002 of the same name.
Tom Gaffney installs safe rooms and said he's busier than ever in spite of the high cost of high-style security. "It can go from $200,000 to $1 million; depends on the size of the room, depends on the ballistic, forced entry level," Gaffney said. Gaffney's business has come a long way from installing bullet-proof glass in check cashing stores. Now it's designer bullet-proof doors and state of the art walls, not to mention the latest in bullet-proof glass. "For a lot of people, it's a sense of security. They may have it and never use it, but it's there," Gaffney said.
There are more affordable and accessible safety measures that can be taken as well, including home alarm and surveillance systems for inside and outside.
See Vides / Read Full Article:
http://newyork.cbslocal.com/2015/10/02/seen-at-11-luxury-lockdown-rooms-hiding-in-plain-sight/