Scared of MS-13 Gang, Hampton's Jet Set Dropping Thousands on Panic Rooms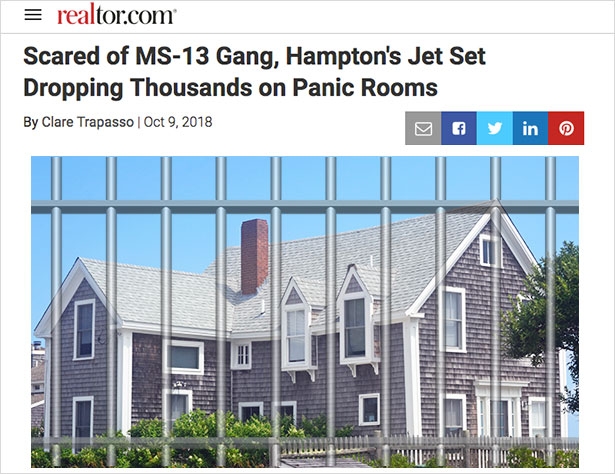 Realtor.com
Scared of MS-13 Gang, Hampton's Jet Set Dropping Thousands on Panic Rooms
Realtor.com Covers Increase in Safe Rooms in Hamptons Homes, Interviews Tom Gaffney of Gaffco
by Clare Trapasso
Excerpts below, For Full article:
https://www.realtor.com/news/trends/scared-ms-13-gang-hamptons-jet-set-building-panic-rooms/
Worried about the notorious MS-13 gang posing a threat to the wealthy vacation enclave of the Hamptons, outside New York City, some homeowners are sparing no expense on safe rooms, according to the New York Post.
Over the past few years, these homeowners on the southeastern coast of Long Island are dropping anywhere from $60,000 to $200,000 on bulletproof safe rooms, equipped with panic buttons, to fortify themselves against potential home invasions by members of MS-13, which is active around central Long Island.
The gang has made national headlines and drawn President Donald Trump's ire for brutally murdering teenagers about an hour west of the Hamptons. And Southampton Town Police Chief Steven Skrynecki stoked fears last year when he said he was worried the gang could move closer to the Hamptons, and deployed police with automatic weapons at charity galas.
Billionaire and former New York City mayoral candidate John Catsimatidis is installing infrared sensors at his Hamptons home in East Quogue, NY, as a precaution, the Post reported.
"I sleep with a gun underneath my pillow: a Walther PPK/S, the same one James Bond carried," Catsimatidis, owner of Red Apple Group and Gristedes Foods, told the Post. "[My wife] Margo prefers a shotgun. Although, once she thought she heard something, got the shotgun out, and shot through the door."
Hamptons homeowners typically make walk-in closets, master baths, or master suites do double duty as bullet-resistant safe rooms, says Tom Gaffney, president Gaffco Ballistics. He charges a whopping $150,000 to $700,000 to fortify the rooms, which remain used as master suites and closets.
In the past two years, he's installed about 20 safe rooms on Long Island, including eight in the Hamptons.
"Their concern out there is a nighttime, forced-entry attack where they're concerned about being taken hostage," Gaffney says. And despite the large price tag, it's just a drop in the bucket for someone who's shelled out tens of millions of dollars on a vacation home.
"It's just another level of security for them, and they can afford it. So why not?" he says.
For Full Article, Visit:
https://www.realtor.com/news/trends/scared-ms-13-gang-hamptons-jet-set-building-panic-rooms/