Saferoom Sales Boom: Stuart Varney of FOX Business interviews Tom Gaffney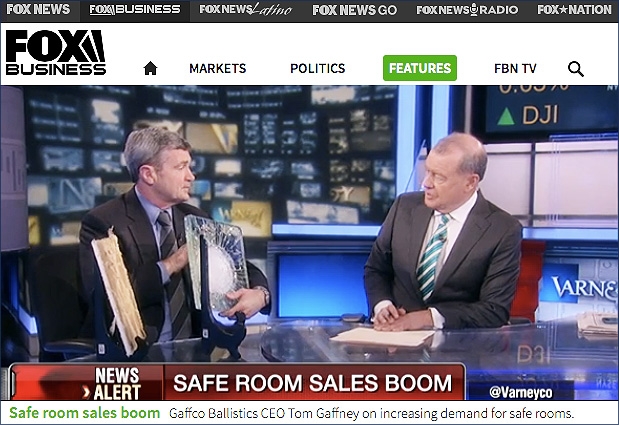 FOX Business, Varney & Company
Saferoom Sales Boom: Stuart Varney of FOX Business interviews Tom Gaffney
Video / News: Tom Gaffney is interviewed on Varney & Company (FOX News)
by Matthew Wisner
Video Link, Click Below to see video of Gaffco CEO Tom Gaffney being interview on FOX Business / Varney & Company:
http://www.foxbusiness.com/features/2016/05/20/bunkers-safe-rooms-going-for-300-400k.html
NEW YORK (FOX Business) -- With safety and security a persistent concern across the country, some builders of bunkers and safe rooms are seeing a boom in sales.
"I think it's the world events. I think current affairs in the world… and people are more concerned about a lack of security out there today so they're taking matters into their own hands and they can afford to do it, to put safe rooms in," said Gaffco Ballistics CEO Tom Gaffney.
He says the company can build a room of any size using bullet-proof Kevlar wall material and bullet-proof glass.
He said residents are not only safe from bullets in safe rooms, but also gas.
"We put in an air filtration system that protects you against nuclear, biological and chemical gases, which is what is really involved in a dirty bomb. So you're safe from that as well," he said.
Watch Video / Full Article:
http://www.foxbusiness.com/features/2016/05/20/bunkers-safe-rooms-going-for-300-400k.html
Read More ›