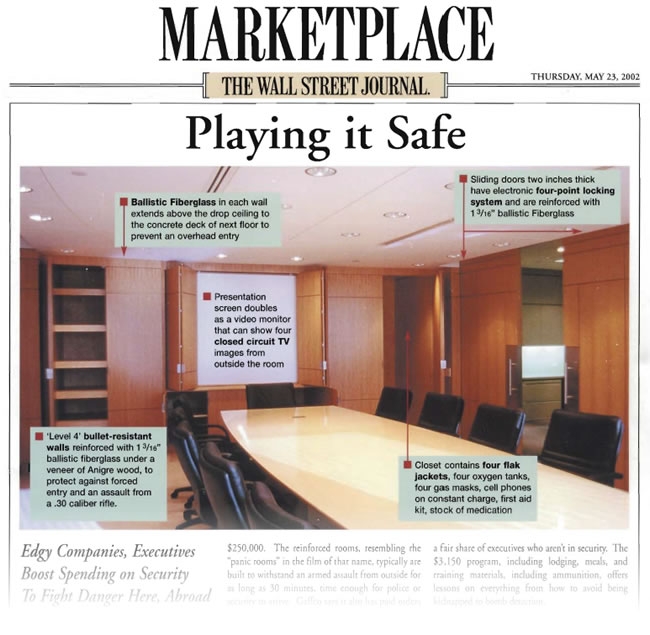 The Wall Street Journal
Playing it Safe
Edgy Companies, Executives Boost Spending on Security To Fight Danger Here, Abroad
by Kris Maher
Up until recently, Gaffco, Inc. was known for installing the fancy woodworking, often in cherry or mahogany, that adorns executive suites. But these days the Mount Vernon, N.Y., company has a new growth business — bulletproofing boardrooms.
During a weekend, Gaffco rips up office floors, walls and ceilings and installs layers of armored steel and bullet-resistant fiberglass beneath a surface of fine woodwork. On Monday, nobody is the wiser, except the executives footing the bills.
In the past three months, Gaffco has redone six boardrooms in Manhattan, mostly for financial institutions, with costs ranging from $50,000 to $250,000. The reinforced rooms, resembling the "panic room" in the film of that name, typically are built to withstand an armed assault from outside for as long as 30 minutes, time enough for police or security to arrive. Gaffco says it also has paid orders or approvals for 28 more rooms, as many as it built in all of 2001.
Amid fresh warning of more possible major terrorist attacks on the U.S. and recent Federal Bureau of Investigation warnings that financial institutions in the Northeast may be targeted, company managers are growing edgy. Small wonder: As the public face of a corporation, or a potential symbol of American capitalism, executives are ready targets, not just for terrorists and kidnappers, security experts say, but also for angry shareholders or pink-slipped employees.
Spending for corporate protection has been rising steadily for decades, but now security is taking on new urgency even for managers who were more casual about the issue before. R.L. Oatman & Associates' intense, seven-day course on executive protection used to draw only security experts. Earlier this month the fully booked course, which the Towson, Md., company has offered since 1994, had a fair share of executives who aren't in security. The $3,150 program, including lodging, meals, and training materials, including ammunition, offers lessons on everything from how to avoid being kidnapped to bomb detection.
"Based on the present alerts and what is going on in the Middle East, executives have become much more aware of their exposure to world events," says Robert Oatman, company president.
Experts say the current security boom initially was a reaction to Sept. 11. Right after the attacks, Thomas Gaffney, Gaffco's chief executive, says he got a flurry of frantic phone calls. Now, he says, "You're getting more of an educated consumer. It's consistent growth."
For Gaffco, the growth includes rising demand for bullet-resistant podiums. The company has built 12 such podiums this year, up from four in 2001. Costing anywhere from $4,000 to $12,000, they are designed to offer protection against a high-powered rifle, and can be taken apart and assembled easily, wherever an executive plans to speak.
Many executives and corporate security consultants say they are turning to private security because they don't feel law enforcement has beefed up security enough in the wake of the attacks. More executives are not only hiring their own full-time security for work or at home, but also are hiring armed escorts when they travel. Companies are also taking a closer look at security programs: For example, Sun Microsystems Inc., has hired additional security. "Since Sept, 11. Sun security has been on high alert," says Maria Squicciarini, a Sun spokeswoman.
For the most part, executives want well-concealed protection. "It's hiding in plain sight now," says Patrick Brosnan, a retired New York detective who founded Brosnan Group, a private security firm. Hulking bodyguards sporting earpieces and stony expressions are out: Many experts stress there is nothing more dangerous than a bodyguard who draws attention to an executive. Anonymous security consultants are a better deterrent because would-be attackers don't know who or where they are, experts say.
Then there is the matter of company image: Executives don't want to look scared, or have explain who the big beefy guy in the corner is to their colleagues or clients.Mr. Brosnan and his staff usually wear business suits when accompanying executives in order to blend in better.
He recently pretended to be a shareholder at a company's annual meeting "to prevent an attack on the chairman because the stock is vanishing." Wearing a polo shirt and two concealed guns, he has mingled with guests at country-home soirées in the Hamptons.
His company also employs women who give the same degree of protection as their male colleagues and who often accompany executives or their families on casual excursions, such as shopping, and even vacation. Requests for such nonbusiness security have jumped 30% this year, Mr. Brosnan says.
Some executives also are taking extra precautions on their own. On the advice of a security consultant, Rolf Stahel, CEO of Britain's Shire Pharmaceuticals Group, says he no longer takes taxis that pull up uninvited. "I'm not personally concerned" about being kidnapped, Mr. Stahel says, "but I'm being advised to put some prevention in place." That prevention includes reserving rooms on the first four floors of hotels and, along with other senior executives, no longer providing his real name to car services at airports.
Executives who travel frequently are particularly worried about airport security. "I think security is still severely lacking in the United States and all that appears to have been done is a lot of window dressing, " says Phil Kelly, CEO of Vsource Inc., a San Diego outsourcing-services provider.
A few executives are even devising their own homespun weapons for air travel. One CEO, who didn't want to be named, said when he flies he smuggles a four-foot-long piece of 40 pounds-test fishing line in his wallet to restrain or trip up a would-be hijacker. Richard Reeds, CEO of Systemax Inc., a Port Washington, N.Y., computer maker, says he asks for an unopened can of soda on commercial flights and stows the can in a seat pocket. "You can put it in a blanket and swing it," against a hijacker.
Most top company executives aren't reducing their travel, but many say they think twice about visiting places where executives have been targeted, or where there is rising anti-American feeling.
Mr. Kelly says Vsource is more careful about flight itineraries and uses only trusted car services abroad. Three years ago in Manila, he was being driven to a morning meeting in the city's busy business district when a car pulled in front of his Mercedes sedan and another pulled alongside, in what appeared to be a potential robbery or kidnapping.
"The driver says, 'Mr. Kelly, sit still.' He pulled out a gun and he pointed at the people and they took off," Mr. Kelly recalls. "Your first impression is 'Wow.' My second thought was, 'He has a gun.' The third is, 'Thank God, he had a gun.'"
Download PDF