Kim Kardashian's bodyguard & new generation of celebrity security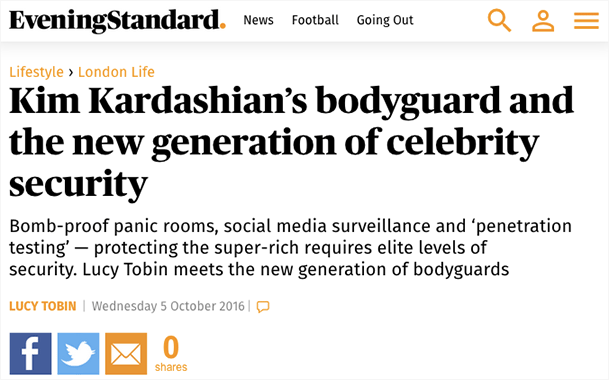 London Evening Standard
Kim Kardashian's bodyguard & new generation of celebrity security
Bomb-proof panic rooms, social media surveillance and 'penetration testing' — protecting the super-rich requires elite levels of security. Lucy Tobin meets the new generation of bodyguard
by Lucy Tobin
Hear the word "bodyguard" and you think: beef. A T-shirt-stretching, granite-muscled hulk of a guy. Mean eyes. Black jacket as uniform as the military garb he probably sported before getting into this game.
He's the bloke who towers over tiny heel-tottering celebs, the one eyeballing paps from the front of a blacked-out celeb Land Rover. You don't get much closer to the stereotype than Pascal Duvier, the German slab of muscle charged with protecting Kim Kardashian-West — and whose job worthiness may presumably now come under question after she was held at gunpoint, gagged and robbed of £8.5 million-worth of jewelery in a Paris apartment in the early hours of Monday morning. Clearly, even the burliest of bodyguards can't be in two places at once, and at the time of the robbery, the Twitter and Instagram-loving Duvier is said to have been with Kim's sisters Kourtney and Kendall in a Paris club.
But Kim, say the big guns of London's £6 billion private-security industry, was going wrong with her hired protection. A ripped bodyguard isn't cutting-edge any more. The protection practices of the super-rich and super-famous have moved on ... A-listers and billionaires are now opting for private security that's focused on intelligence. They're hiring London's former GCHQ sleuths to put a lens over their life — looking at their family, friends, home, social media — to find out their vulnerable points before criminals do the same
Tom Gaffney, president of safe-room specialist Gaffco Ballistics, says he'd expect a "reinforced entry door" to be installed in the Hotel de Pourtalès apartment Kim stayed in. His clients also insist on "a ballistic door that functions in tandem with a procedure that is normally followed, so the door remains locked until the visitor has been vetted."
"Modular and fixed panic buttons are also normally located throughout the residence so that security or local law enforcement can be alerted immediately in the event of an intrusion."
...Tesla billionaire Elon Musk apparently invited a trusted security firm to break into his house, saying, "Don't worry about what you destroy, I just want to know the weaknesses. He went for an American firm — but for most of the super-rich of Europe, Africa and the Middle East, London is the place to call on these intelligence-led security services. The capital's most successful firms are all set up by ex-special forces or former-GCHQ blokes (Theresa May has bucked the trend with her female bodyguard). Many of the most in-demand bodyguards are ex-Metropolitan Police.
Foreigners might flock to organise their security with London firms but the capital itself is viewed as safer than most. An attack on Kim taking place in Paris was "predictable," one security expert tells me — "gangs of Eastern Europeans roam the streets with established, military-type organised crime networks, a scary mix of tough, battle-hardened guys, improving intelligence and an extensive stash of weapons."
Full Article: http://www.standard.co.uk/lifestyle/london-life/kim-kardashian-s-bodyguard-and-the-new-generation-of-celebrity-security-a3361411.html