Is a Swanky Safe Room the Ultimate Luxe Amenity?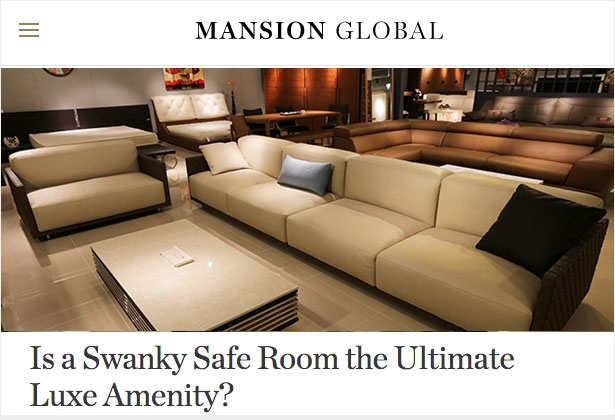 MansionGlobal.com
Is a Swanky Safe Room the Ultimate Luxe Amenity?
So-called "panic rooms" are getting decked out and expanded—in some cases to a whole wing
by Nancy A. Ruhling
Excerpts below, For Full article:
https://www.mansionglobal.com/articles/is-a-swanky-safe-room-the-ultimate-luxe-amenity-113763
In the 2002 thriller "Panic Room," Jodie Foster's character and her 11-year-old daughter, played by Kristen Stewart, are forced to hunker down in a secret concrete bunker in their New York City brownstone when burglars threaten their lives.
There they sweat it out cinematically, sealed behind a steel door in a Spartan space that has a steel toilet and looks more like a maximum-security prison than a protective paradise.
At the time, panic rooms were more novel than necessity, and if Ms. Foster and Ms. Stewart were battling the bad guys today, they'd be likely to find themselves sitting in a safe room that's as high style as a five-star hotel and much more high tech.
While it's true that it's impossible to put a price on personal safety, panic rooms, which also are referred to by the calmer term "safe rooms," are among the safety features—ranging from bespoke safes and bank-style vaults to elaborately outfitted underground bunkers in the middle of nowhere—that high-net-worth individuals are spending tens of thousands, even hundreds of thousands of dollars on to provide protection for their families, possessions and properties.
Tom Gaffney, the owner of Gaffco Ballistics, a firm in South Londonderry, Vermont, that designs, engineers and builds high-end panic/safe rooms for clients around the globe, said his clients, "the top one-percenters," are keenly security conscious, but "they don't want to give up aesthetics for safety."
"There's a higher sense of awareness, and architects are calling us now before the project even begins," Mr. Gaffney said. "It's more expensive to convert a room, so it is becoming standard for us to build them to specifications. People are reaching out to us; we don't have to go to them."
For Full article:
https://www.mansionglobal.com/articles/is-a-swanky-safe-room-the-ultimate-luxe-amenity-113763