Irish Times - Is your home as safe as houses?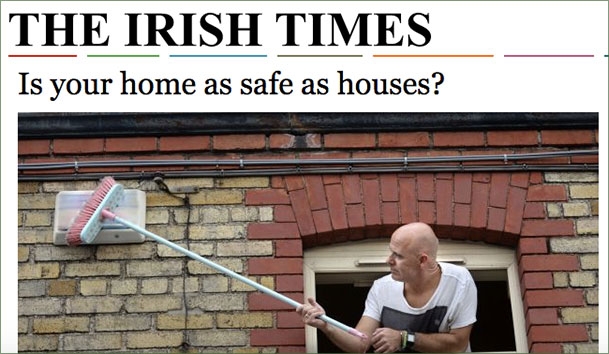 The Irish Times
Irish Times - Is your home as safe as houses?
From monitored alarm systems to reinforced safe rooms, the range of options to keep burglars at bay is growing...
by Conor Pope
Once upon a time, I lived in a rented flat in a leafy – and ridiculously gated –Dublin 4 complex. Despite the gate and the fancy address, my flat was broken into twice in three months with the ne'er-do-well making off with my telly on his – or her – first visit and all my CDs on the second. More than 15 years on, I still mourn their loss.
The flat wasn't alarmed and the garda who investigated the break-ins said if it had been, the robber may have been deterred: the implication being that it was – sort of – my fault.
Fast forward 20 years to the present day. A long-since decommissioned security alarm on an exterior wall of my house started blaring in the dead of night. The keypad which should have been used to input a code – if anyone knew what the code was – had disappeared years earlier so all I could do was to stare at the shrieking box and ring random security firms looking for help. There was none forthcoming.
Hours passed until, eventually, roofers working nearby took pity on my ears and ripped the alarm from the wall. For over five hours the siren's call attracted no police attention; only scowls from neighbours and howls from my dog. And two rough-looking (but lovely) men ripping the box off the wall did not see the Garda rush to the scene of the chime.
So the only thing the alarm did was ruin my night's sleep which raises an obvious question? What is the point of house alarms? Do they keep us and our stuff safe? And if the answer is no, what can we do to keep the burglars at bay?
And if you are a really high-net worth individual, a box on your wall that no one will heed or even a monitored smart alarm with nattily deployed DIY cameras streaming footage of your home and turning on your lights and boiling your kettle will be of little interest. You will need more.
This is where Thomas Gaffney comes in. He makes home bunkers to keep people safe from armed intruders and natural disaster or acts of terrorism. He does most of his business in New York City but as his name suggests, he is Irish; from Ballaghaderreen, Co Roscommon, in fact.
He is the chief executive of Gaffco Ballistics now but when he left home for America in 1985 he was a humble plumber. His first step away from plumbing was when he was asked to build a bulletproof steel cage for his cousin's cheque-cashing company.
"They are like the poor people's banks," he explains. "There are areas like the South Bronx or Harlem where banks are scarce. So where can people go to cash their cheques? Where can they pay their bills? They use cheque cash houses but they need steel boxes and that's really what I started out doing."
Business was good and he moved on to securing retail banks with bulletproof glass and communications equipment. Then 9/11 happened and Fortune 500 companies came calling to see if he could install panic rooms in their headquarters. Then he moved on to the homes of these companies' senior people. That now makes up more than 90 per cent of his business.
This year he will install dozens of safe rooms and while most of his work is centered around New York his business has an international dimension and he has worked in Dublin, Nigeria, Saudi Arabia and the UK. With a starting price of $150,000 (€133,000) and a top price of more than half a million dollars, his safe rooms are not cheap, but, if someone is spending millions on a home, the price tag can seem modest.
The installation is modest too. "What we do is line the walls and floors of the master bedroom with ballistic fibreglass – you might recognise the brand name Kevlar. And we reinforce the door. That buys people time if there is a house invasion. If they have an alarm service, they call the monitoring guys who call 911. It is a great short-term solution."
He also sells a longer- term solution. "It is what I call the 'sh*t hits the fan' option. We take an area in the basement like a home movie theatre, secure it and put in an air-filtration system that allows the area to withstand a nuclear, chemical or biological attack. We get the food in, the water in and the iodine tablets."
The top price for such a room is more than half a million dollars. "People will have spent as much of $60 million on their homes so the amounts we are talking about are peanuts compared with that," he says. He did an annexe to an embassy in Dublin not long ago. "I also priced up two other safe rooms for individuals in Dublin. We have done a few in Singapore, Nigeria and London."