DON'T PANIC - Robb Report Feature Article on Safe Rooms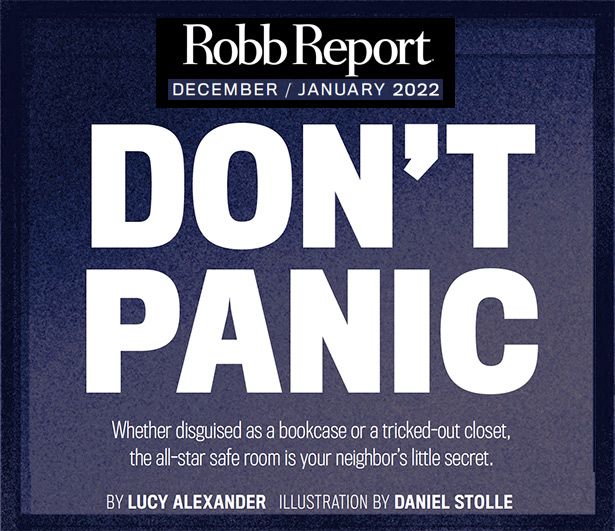 The Robb Report
DON'T PANIC - Robb Report Feature Article on Safe Rooms
Tom Gaffney, CEO of Gaffco, was interviewed for Robb Report article about Safe Rooms
by Lucy Alexander (Illustration By Daniel Stolle)
Excerpts below. To read full article, Click Here.
Most people don't notice the bookcase in the Costa Rica hilltop vacation home, lined with popular biographies and thrillers by Clive Cussler, John Grisham and Dan Brown. Their eyes rest instead on the tropical views through the room's windows. But like the adventure stories it holds, the bookcase also has a mystery at its heart: Its deliberately ordinary facade conceals a bulletproof steel door weighing hundreds of pounds, yet so finely balanced that a small child can easily open and close it. And behind that door lies a panic room.
Though safes, alarm systems and cameras are now standard fare, and private security services have a host of other methods at their disposal, part of the appeal of a panic room is that "you pay me once, we put it in there, and you can lock me out...That last line of defense between you and the bad guy should be controlled only by you and your loved ones." But the sudden popularity of reinforced-concrete shelters may say more about the state of our national psyche than about an actual lack of residential security.
The new generation of panic rooms are usually multipurpose, says Tom Gaffney, president of Gaffco Ballistics, based in Vermont. "It tends to be a walk-in closet," which he says can double as a vault for jewelry, guns and art and a place to shelter in case of home intrusion. "In the type of residence we're working in, they can be 1,000 square feet." The room itself—walls, doors and windows—will be blast-resistant and impervious to ballistics and forced entry, he explains: "We base the criteria on what the US government does for their embassies overseas."
Rooms are accessed by fingerprint reader or facial recognition—ease and speed are crucial in an emergency. "You're asleep at 3 o'clock in the morning," says Gaffney. You hear your alarm, "you need to go into a room that you're used to using on a regular basis so you don't have to think about it, straight into the walk-in closet or the master bathroom, [then] hit the button," which locks the door and alerts the police. Families with children often turn a kids' bathroom or closet into a safe room. And if an intruder were to cut the power, entry would revert to a manual lock, with a key for the outside. If you're already secured inside, the door would remain locked until you use a "thumb turn" to release it.
A panic room is not a success if it induces panic on sight, says Gaffney, so the safety features must be "extremely low-key—they want it, but they don't want to see it."
The recent rise in demand for panic rooms is almost entirely a US phenomenon, manufacturers agree. There's a small but steady overseas market in embassies, authoritarian Middle Eastern states and countries with high socioeconomic inequality and crime, such as Nigeria, where Gaffco has done work for businessmen, or Israel, where every residential building constructed after 1990 must incorporate a reinforced-concrete shelter. In these countries, safe rooms are deadly serious, not bachelor-pad novelties.
Companies also increasingly provide domestic protection to their top executives. At the San Francisco home of one multinational CEO, Gaffney says, "all the exterior doors and windows had to be bullet-resistant and forced-entry-resistant. That was mandated by the corporation themselves. They looked at it as key-man insurance. Lose him, the stock goes down."
Manhattan clients often cite the fear of terrorist attacks as their primary driver, says Gaffney noting that he has sometimes been asked to install an additional panic room in a townhouse basement as a place to wait out a city-wide lockdown. "We'll take a [home] movie theater, for example, and make that into a secondary safe room," he explains. "It's below-ground, so if there is a nuclear, biological, chemical attack, the radiation can't leak down." These requests are typically channeled through "ex-governmental guys, FBI, Secret Service" now employed as personal-security consultants.
To read full article, Click Here.