David and Victoria Beckham install panic room in new £50 million home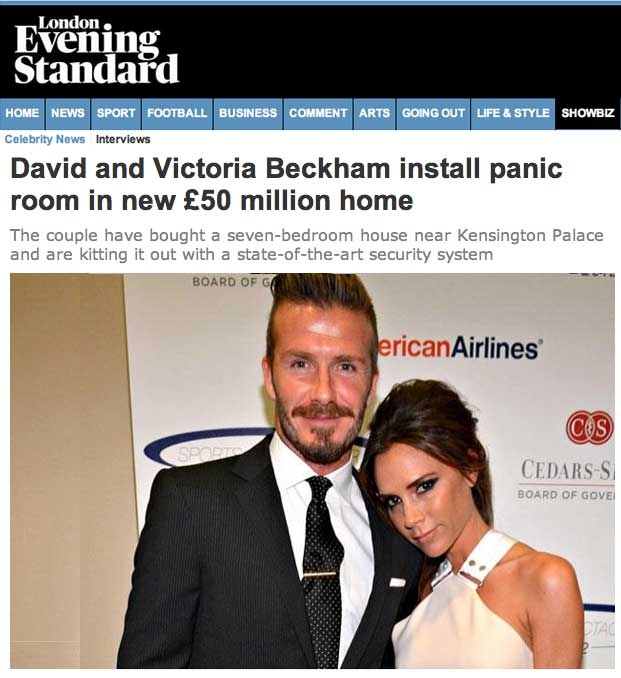 The London Evening Standard
David and Victoria Beckham install panic room in new £50 million home
The couple have bought a seven-bedroom house near Kensington Palace and are kitting it out with a state-of-the-art security system
by Staff
David and Victoria Beckham are refurbishing their luxury £50 million home near Kensington Palace in London and intend to include a panic room to ensure their family's safety.
The couple have bought a seven-bedroom home near Kensington Palace in London and are going to install a state-of-the-art security system including the room which the family could hide in if intruders broke in.
A source told the Daily Mirror newspaper: "Security is a concern and the new house has a soundproof panic room. "It may sound over-the-top but they are actually the norm in Los Angeles."
The 39-year-old fashion designer and the 38-year-old retired soccer star - who have four children, sons Brooklyn, 14, Romeo, 11, and Cruz, eight, and two-year-old daughter Harper - are also having an underground spa, pool and restaurant-quality kitchen built in the property, which is close to the royal residence of Prince William and Duchess Catherine.
The Beckhams have been living in a rented mews house since they returned to the UK from Los Angeles.
They now plan to move to a bigger place in west London until work on the five-storey Kensington home is complete next year. It will also feature "staffed massage rooms", five bathrooms, an indoor cinema, library and underground car park for David's car collection. The former England captain and his children will be able to play soccer on a small AstroTurf pitch.
Read More ›