Laminated Polycarbonate
GAFFCO Laminated Polycarbonate sheets provide protection against multiple-shot penetration as well as forced entry attempts. Protection is also provided against spalling – the passage of fragments or splinters – that could cause injury to anyone standing behind the protective unit. An abrasion-resistant coating is applied to both sides for long-term durability.
GAFFCO Laminated Polycarbonate sheets offer protection, excellent optical clarity and typically weigh less than other bullet-resistant materials.
We also manufacture laminates to meet your specific threat or standards specifications. Please call with your requirements.
Available Colors:
Clear, Grey, Green or Bronze Tints
Diagrams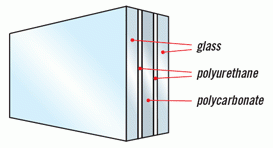 Specifications
| Product | Threat | Thickness | Lbs/Sq.Ft. |
| --- | --- | --- | --- |
| GAFF LP 375 | .38 Special, Forced Entry, 30 Minute Physical Attack | .390" | 2.44 |
| GAFF LP 500 | .38 Special, Forced Entry, 60 Minute Physical Attack | .500" | 3.32 |
| GAFF LP 750 | Forced Entry | .757" | 4.88 |
| GAFF LP 750 BR | 9 mm, Forced Entry | .758" | 4.84 |
| GAFF LP 100 | 9 mm, .357 MAG, Forced Entry | 1.000" | 6.54 |
| GAFF LP 1250 | .44 MAG, Forced Entry, 60 Minute Physical Attack | 1.250" | 8.10 |
| GAFF LPA 1250 BR | 9 mm Rifle (5 Shots) | 1.250" | 8.02 |
| ACRYLIC 3 | UL Level 3, 44 MAG (3 Shots) | 1.250" | 8.02 |