TTU-5™
Flush wall-mounted System. Ideal for High-Security Locations.
Monitoring the activities of inmates and patients in high-security or sensitive types of areas requires a special kind of communication system. The system must be sensitive enough to deliver clear, intelligible communications in high-ambient noise environments. It must be durable enough to withstand a tough environment. And it must provide a measure of control for those responsible for the inmates or patients.
The Norcon TTU-5 is specially designed to achieve this. It is intended for in-wall installations requiring flush-mounting and bullet resistance. It is enclosed in a pair of wall-mounted galvanized steel back boxes with stainless steel rectangular faces.
HOW IT WORKS…
The microphone/speaker combination is designed to penetrate high-ambient noise levels. In addition, the TTU-5's circuitry shapes and enhances the sound for maximum intelligibility. Its compression circuitry decreases loud, annoying sounds. The microphone/speaker and controls are flush with the panel, assuring a tamper-resistant environment. The operator has access to recessed volume controls.
HOW TO INSTALL…
The TTU-5 unit with the controls goes on the corridor side; the other unit on the inmate or patient side. Simply connect the cable provided to the terminal blocks on the stainless steel plates. Then fasten these plates to the back-boxes using the tamper-proof screws and special tool furnished.
The panel on the exterior (corridor) side is connected to a continuous-duty, 117-Volt AC power supply which is stepped down to 15 Volts.
FEATURES:
Clear two-way hands-free
To order please call 802-824-9808 or send and email to .(JavaScript must be enabled to view this email address).
Diagrams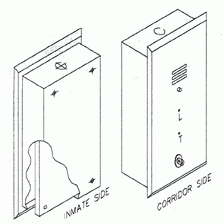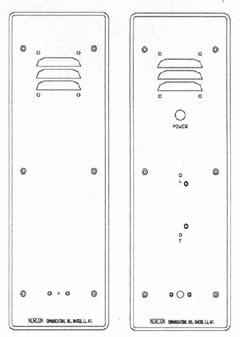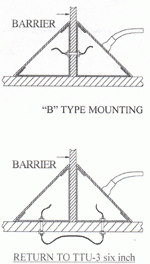 Specifications
FEATURES
Clear 2-way hands-free voice communication.
Avoids shouting, repetition, misunderstanding.
Provides ongoing activity monitoring as needed.
Rugged, tamper-resistant materials.
Quality electronic design and engineering.
Bullet-resistant option* available
Export models available.
Made in U.S.A.
SPECIFICATIONS
ELECTRONIC
Audio frequency response: Selectively shaped for maximum voice intelligibility.
Audio power: 2 Watts per amplifier (2 amplifiers)
Distortion: Less than 2%
Listen mode: 20 dB compression
Talk mode: Vox
Microphones: Electret
MECHANICAL
Steel back-boxes; I I in. H x 3 in. W x 2 in. D
Face Plates: 0.0625 in. Stainless steel standard, (Other gouges available.) 13 in. H X 4 in. W
Weight: Depends on gauge and type of material.
Mounting: Back?boxes recessed in barrier wall.
Panel controls: Exterior (corridor) panel only-on-off switch, recessed listen volume, and recessed talk volume.
specifications are subject to change without notice.
Talk Thru Systems are shipped complete with cables, instructions, and power supply.
*Bullet- resistant shield rated up to .357 Magnum service leads.
Other models available
TTU-1A Continuous power unit complete. Housing depth is 2 ½ in.
TTU-1AB same as TTU-1A, but with bullet-resistant option (UL Level 1 or 3).
TTU-1AJ same as TTU-1A, but with a removable gooseneck microphone.
TTU-1AB same as TTU-1AJ, but with bullet-resistant option *UL Level 1 or 3).
TTU-1D Battery operated unit complete with rechargeable batteries and charger. Housing depth is 3 ½ inc.
TTU-1DB same as TTU-1D, but with bullet-resistant option (UL Level 1 or 3).
TTU-1DJ same as TTU-1D, but with a removable gooseneck microphone.
TTU-1DJB same as TTU-1DJ, but with bullet-resistant option (UL Level 1 or 3).
TTU-HS Headset for TTU products.
TTU-3 Standard model same as the TTU-3 6 inch but 12 ½" long.
Talk Thru systems are shipped complete with cables, instruction, and power supply. Mounting hardware is not included.