TTU-4™
Low-Profile Voice Communication System
Ideal for High-Security Locations
The TTU-4 Talk Thru communication system is particularly suitable for low ambient noise environments that require an unobtrusive, yet tamper-resistant voice communication system.
The TTU-4's counter-mounted design eliminates the need for cutting into a barrier. Its low-profile installation adds a personal dimension to such situations as inmate-to-visitor communications.
All the components including the microphones are housed in the sleek, compact units to avoid the hazards that might be encountered in a high-security environment.
HOW IT WORKS…
The TTU-4 incorporates the same high-quality electronics as the basic Patent Pending (#4049911) Norcon TTU-1 Talk Thru system. It is a Vox System, enabling the inmate and the visitor to have hands free two-way communication.
The Norcon TTU-4 provides clear communication, shaping the sound for maximum intelligibility. Its compression circuitry decreases loud, annoying sounds. Since the TTU-4 is designed for applications in security areas, all controls and microphones are recessed to minimize unauthorized adjustment and tampering. All exposed hardware is temper-resistant.
HOW TO INSTALL…
The TTU-4 comes ready to operate. The prism units are quickly and easily mounted on the counter-top on opposite sides of the barrier. They can be positioned back-to-back (as shown) or randomly. The unit with the controls goes on the visitor side of the barrier. Tamper resistant screws are used for both units. A special tool is furnished for these screws. There are two-ways to install the TTU-4: either run the cable between the units through a small hole in the barrier, or under the counter-top.
The TTU-4 uses a continuous-duty, 117-Volt power supply which is stepped down to 15 Volts.
To order please call 802-824-9808 or send and email to .(JavaScript must be enabled to view this email address).
Diagrams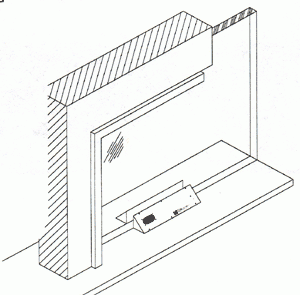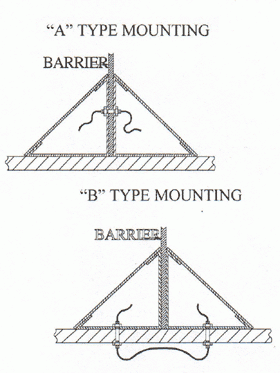 Specifications
FEATURES
Clear 2-way hands-free voice communication.
Quality electronic design and engineering.
Avoids shouting, repetition, misunderstanding.
No gooseneck microphone and no external controls.
Rugged, tamper-resistant materials.
Simple, one-person installation.
Compact, contemporary design. Fits any décor.
Export models available.
Units available for ADA applications.
Made in U.S.A.
SPECIFICATIONS
ELECTRONIC
Audio frequency response: Selectively shaped for maximum voice intelligibility.
Audio power: Watts per amplifier (2 amplifiers)
Distortion: Less than 2%
Listen mode: 20 dB compression
Talk mode: Vox
Microphones: Electret
Power supply: Input: 120 VAC, 60 Hz Output: 15 VDC, 175 mA
Other input power is available upon request.
MECHANICAL
Outside assembly: Machined aluminum, anodized finish, tamper-resistant.
Inside assembly: Machined aluminum, anodized finish, tamper-resistant.
Size (both assemblies): 12 ½ in., W x 2 3/8 in. H x 2 3/8 in. D
Weight: 2.5 lbs.
Mounting: Counter-top
Panel controls: No external controls
specifications are subject to change without notice.