All stainless stell Pass Hopper mounts on counter top, in wall or window opening. Hopper pivots outward for customer access, then in opposite direction for operator access. Only one moving part allows virtually maintenance free service. Pass Hopper is equipped with weather-strip for exterior use.
Standard models provide Class I bullet resistant protection. Class III protection is an extra option.
Pass Hopper is available with stationary exterior flange and loose adjustable flange for rear side on all models.
Pass Hopper can handle a gallon of antifreeze, two liter beverage or bag of coins. Hopper locks with latch.
To order please call 802-824-9808 or send and email to .(JavaScript must be enabled to view this email address).
Diagrams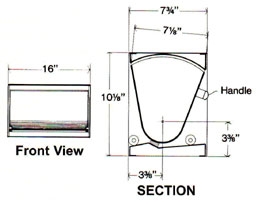 Photos