Package Receiver with Vision Panel
Package Receiver with Vision Panel
PP-11
Package Receiver with Vision Panel accomodates larger items for transfer. It has an inter-locking mechanism to allow only one door at a time to open. Front door can be locked from rear side with special locking bar. Closer is furnished on front door.
It features a vision panel in rear door which enables operator to see contents inside unit.
Finish options: Prime painted steel housing and stainless steel doors.
Vision Panel: Class I - 1 1/4" acrylic or Class III - 1 1/4" Lexgard
Clear inside dimensions: 14 3/8" wide x 13 1/8" high x 14 3/16" deep.
Wall opening size: 15 1/2" wide x 15 1/2" high.
To order please call 802-824-9808 or send and email to .(JavaScript must be enabled to view this email address).
Diagrams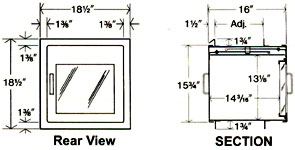 Photos