GS-54
Draft free 11" diameter cast aluminum talk thru is meant for exterior installations. This model is larger version of our Gaffco Model GS-44. Gaffco Model GS-54 Talk Thru is adjustable for glazing from 1/4" to 1 7/8" thick. It requires optional spacer ring for glass less than 1 3/16" thick. Indicate window glass thickness when ordering talk thru. Specify finish: clear or dark bronze anodize.
Requires 10" diameter hole.
Class I or III bullet resistant.
To order please call 802-824-9808 or send and email to .(JavaScript must be enabled to view this email address).
Diagrams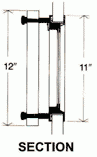 Photos