Clear Package Receiver
PP-12
Package Receiver is for interior use only. Clear acrylic housing is fastened together with special aluminum extrusions. Clear acrylic doors allow plain view of contents. Bottom is made of plastic laminated plywood and bullet resistent fiberglass. Unit mounts on counter top Special interlocking mechanism allows only one door at a time to open.
Class I or III bullet resistent protection.
Clear inside dimensions: 13 5/16" wide x 12 1/2" high x 13 3/8" deep.
To order please call 802-824-9808 or send and email to .(JavaScript must be enabled to view this email address).
Diagrams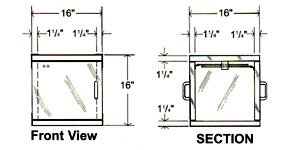 Photos