Cash Drawer has stainless steel housing with bullet resistant plastic drawer. Unit mounts in counter top along front edge. Glazing (by others) should set above the flat hood portion of drawer. As drawer slides out the stainless steel front panel pivots upward. Movement is controlled by the full width handle across rear of drawer. Lexan lid stays closed when drawer is extended. This unit is designed for long life as there are no slides to wear out.
Counter top opening size: 14 1/2" wide x 17 1/8" deep x 5 3/4" high.
Drawer extension: 9:
Inside dimension of drawer: 12" wide x 14 5/8" deep x 3 5/8" high.
To order please call 802-824-9808 or send and email to .(JavaScript must be enabled to view this email address).
Diagrams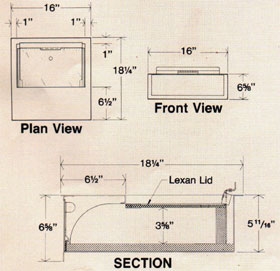 Photos